SERI PAHLAWAN GAGAH PERKASA KANANG ANAK LANGKAU
A living legend, an IBAN WARRIOR who's the most deserving to be awarded the title TUN.
TUN KANANG ANAK LANGKAU
IBAN WARRIOR KANANG ANAK LANGKAU is the only living recipient of the Seri Pahlawan Gagah Perkasa (SP) medal and the Pingat Gagah Berani (PGB), the two highest gallantry awards, and the only soldier to have received both awards.
He received a letter of commendation from the Yang di-Pertuan Agong yesterday for his service and bravery in the army.
In terms of protocol, one of his awards ranks above a Tun's. But the nation's two highest awards for gallantry rest lightly on retired Warrant Officer (I) Kanang Langkau's shoulders.
According to Colonel (Rtd) Fabian Wong, no award was higher than the SP but it did not carry any title.
"It's not listed in the federal list of importance," said Wong, who had received the State gallantry award, 'Pingat Keberanian Sarawak' (PK).
He hoped Sarawak would accord protocol and importance to SP holders, adding that SP holders should be recognised as "heroes and high achievers" because its (SP) standing is higher than the 'Tun'.
Stressing that the SP is ranked first in the federal list of awards, Wong said, the 'Darjah Kerabat Diraja Malaysia' is second while 'Darjah Utama Seri Mahkota' (third), 'Seri Maharaja Mangku Negara' (fourth) and Seri Setia Mahkota (fifth).
The second and third awards were only accorded to deserving members of the royal family while the fourth and fifth award - both of which carry the title 'Tun' - are for any other Malaysians, he said, adding that all those information could be obtained from the relevant website.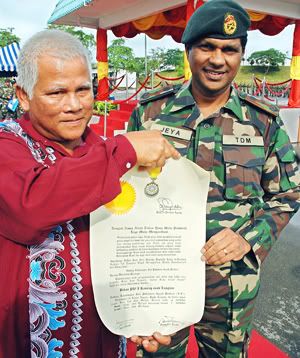 In 1961 he joined the British 42nd Royal Marines Commandos as an Iban tracker, and was later absorbed into the 8th Ranger Battalion.
"I served my country during my army days. I've sacrificed the quality time I should have had with my family. I didn't get to see my children grow up. Now that I'm retired, I spend most of my time with my grandchildren.
"That alone makes me feel like I'm the richest man in the world. A normal civilian life in peacetime is priceless," said the 67-year-old after the 3rd Army Infantry Brigade's 48th anniversary celebration in Semenggo Camp yesterday.
On June 1, 1976, Kanang and his 8th Ranger Intelligence task force were part of Operation Gerakan Setia in the Korbu Forest Reserve, Perak. They stormed the communist terrorist headquarters, killing three terrorists and disrupted the enemy supply route.
For his bravery in that operation he was awarded the PGB on June 4, 1980.
Another fierce encounter that earned him the SP was during Operation Gerakan Pukat in Tanah Hitam, Perak, on Feb 20, 1980. Kanang's platoon was ambushed while hunting a communist unit in Ladang Kending, Sungai Siput, Perak.
Despite serious gunshot wounds in the chest and stomach, as platoon sergeant, he organised a counter attack before passing out.
For his bravery that day, he received the highest award from the king on June 3, 1981.
"I never regretted joining the army. It's the best job anyone could have. And no one can beat the army in terms of welfare.
"Deep in my heart, I will remain a soldier till the day I die," said Kanang.
Kanang terima watikah PGB, SP
KUCHING 14 Dis. – Pegawai Waran Satu, Kanang Anak Langkau, (gambar) yang dikagumi atas keberaniannya menentang pengganas di Sungai Siput, Perak pada tahun 1980, hari ini menerima sijil Watikah Pingat Darjah Keberanian Tertinggi Negara, Seri Pahlawan Gagah Perkasa (SP) dan sijil Watikah Pingat Gagah Berani (PGB).
Anugerah itu disampaikan oleh Panglima 3 Briged, Brigadier Jeneral Jeyabalan S. sempena ulang tahun 3 Briged yang ke-48 di Kem Briged Kuching.
Kanang, 62, kekal menjadi 'mentor' dalam kerjaya Angkatan Tentera Malaysia lebih tiga dekad di atas keberaniannya itu.
Pada 3 Jun 1981, beliau diperkenan oleh Yang di-Pertuan Agong untuk menerima Darjah Keberanian Tertinggi Negara, Seri Pahlawan Gagah Perkasa (SP) iaitu lebih tinggi daripada penerima Darjah Seri Maharaja Mangku Negara (SMN) yang membawa gelaran Tun.
Sebelum itu pada 4 Jun 1980, Kanang juga pernah menerima anugerah Pingat Gagah Berani Yang di-Pertuan Agong iaitu darjah keberanian kedua tertinggi negara.
"Sejak darah dari badan saya menitis ke bumi ketika bertempur dengan musuh negara, semangat perwira masih lagi kekal dalam jiwa saya sampai bila-bila pun, saya masih seorang askar," kata Kanang kepada pemberita di sini.
Kanang berkata, beliau tidak pernah menyesal menjadi tentera walaupun ketika zaman mudanya beliau tidak menyimpan cita-cita untuk menjadi askar.
Ketika ditanya apakah pekerjaannya setelah 21 tahun meninggalkan kerjaya sebagai 'soldadu', Kanang berkata, beliau mahu berehat dan menghabiskan masa bersama cucunya yang masih kecil.
– Bernama