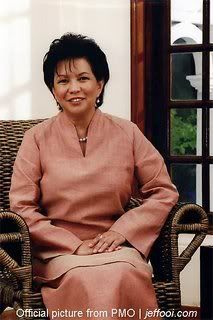 Among the non-Malay groups, inter-ethnic marriages are generally much more common than among Malays. However it also seems the case that migration is the preferred option for the numbers of Malaysians who either marry across ethnic lines or acquire foreign spouses while studying or working abroad. This particularly applies to Malay women who are either not particularly religious or who see no reason why their spouses should convert.
By one estimate, there are some 150,000 mixed marriages in Malaysia, a number that seems impossibly small in a population of 24 million. The leafy, winding streets of Damansara Heights and Kenny Hills abound with matrons who entered into marriage and lives of leisure with well-to-do Malays straight out of the universities of England, where the government had sent their mates. It is forbidden for a Muslim to marry a non-Muslim, so these women, with their servants and their huge homes, stop being Jean and become Jehan in public, although seldom in private.
With scores, perhaps hundreds, of outraged Muslims outside the courtroom, demanding that she be denied the chance to change her religion on her identity card, a high court ruled in May that she was subject to the jurisdiction of the shariah court. The shariah courts have allowed one conversion in history – for a woman who had been dead for decades.The result is that either people do not marry, or they emigrate. Bright women who have preferred to marry foreigners found their husbands denied work permits. There are believed to be thousands living in Australia, Canada or the United Kingdom.
But so long as the elite indulges in kris-waving while marrying as it pleases, multiracial nation-building may have scant grass roots impact.