Following the
signing of the agreement
, a new joint venture company was formed,
Sarawak Aluminium Company
. This mega project will be sited at
Similajau
near Bintulu in the state of Sarawak. Rio Tinto holds 60 per cent stake in the project and 40 per cent is held by CMS.
Full story, click
here
and
here
Latest related articles,
click here
---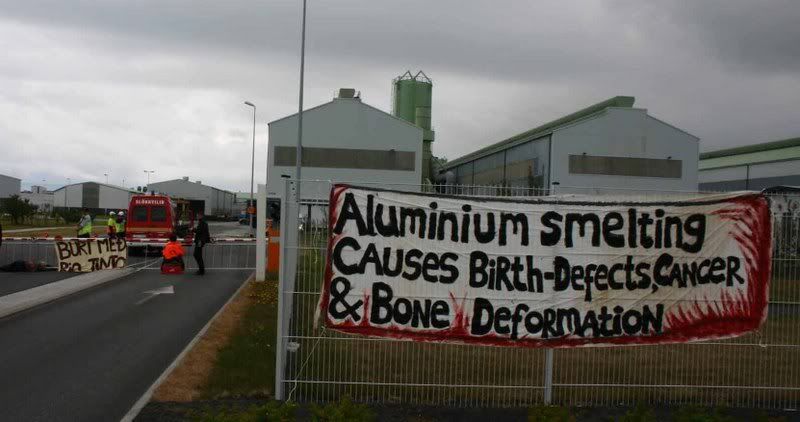 ---
RIO TINTO'S ABYSMAL RECORD
While we can conclude that Alcan itself heavily supplies the arms industry and is invading Africa as it invades Iceland, it is now part of Rio Tinto, the world's largest private mining company, "long criticized for gross human rights violations dating back to its support of apartheid in Southern Africa."
We will name some of the many cases. Rio Tinto has been known to subject it's own workers to poisoning in mines, having security guards shooting locals on the spot looking for small amounts of gold in one of it's mines and having union-members spied upon or fired in its Brazilian gold mines.
Rio Tinto has been involved with mercenary scandals. The Papua New Guinean (PNG) Government, in joint venture with Rio Tinto, hired private mercenary companies Sandline International, a London-based private military company, composed primarily of former British and South African special forces soldiers, which had been involved in the civil wars in Angola and Sierra Leone and were now paid to fight the population of Bougainville, an island near PNG. The mine had been closed by the people of the island because of the disastrous ecological effects.
Citizens of Bougainville have filed a class action lawsuit in the United States against Rio Tinto arising from the environmental damage caused by the mine and war crimes occurring during the civil war years. In August 2006, the United States Court of Appeals for the Ninth Circuit rejected Rio Tinto's effort to dismiss the claim.
Full story, click
here
---
TO THE PEOPLE OF BINTULU, PARTICULARLY SIMILAJAU AND SURROUNDING AREAS, AND THE PEOPLE OF SARAWAK IN GENERAL, PLEASE BE AWARE OF THE SERIOUSNESS OF THE ENVIRONMENTAL / ECOLOGICAL IMPACTS OF THIS PROJECT ON THE WELL BEING AND HEALTH OF THE PEOPLE.
PLEASE EXPLAIN THE SERIOUSNESS IMPACT OF THIS PROJECT TO THE PEOPLE. BE WARN, IT HAS A VERY SERIOUS IMPLICATIONS ON THE PEOPLE'S HEALTH.
WE WANTS DEVELOPMENT, BUT NOT AT THE EXPENSE OF THE PEOPLE LIFE
---
AuctionAds: Increase the bid on your site's income! Try AuctionAds