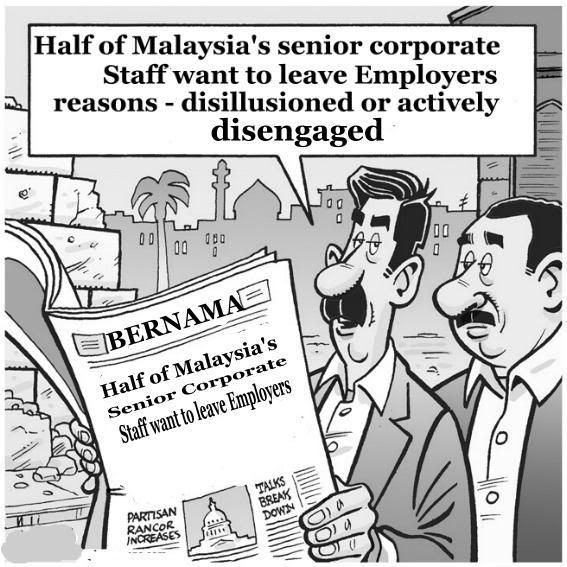 Half Of M'sia's Senior Corporate Staff Want To Leave Employers
Report from
BERNAMA
stated that nearly half of Malaysia's senior corporate staff employed in companies want to leave their present employers, a study reveals. This is the conclusion drawn from a study on attitudes and engagement of employees in several Asia-Pacific countries, including Malaysia. The study was released recently by ISR, a global employee research and consulting firm, with offices in a number of countries. The study concludes that companies in this region would face enormous challenges retaining talented employees, attributing this trend to rigid management styles among companies in the region. Five major economies in the Asia-Pacific region -- Australia, China, Malaysia, Singapore and Thailand -- were included in the study.
Here is what the study revealed :
the region was full of what it described as "talent-at-risk" staff -- employees wanting to leave their present jobs, with the largest proportion of employees who define themselves as either disillusioned or actively disengaged,


47 per cent of Malaysia's most talented staff indicating they are "mere steps" away from considering leaving their companies.


40 per cent of Singaporeans were disillusioned or actively disengaged, accounting for about 30 per cent of talented staff in Australia, China and Thailand.


"The majority of talent-at-risk staff in the Asia-Pacific region reported that they would leave as soon as they have an acceptable new job offer," said Patrick Kulesa, ISR's global research director."This means the risk to current employers is immediate and must be addressed," he said.


ISR also found that 88 per cent of the talent-at-risk staff in China had indicated that they would leave their current position as soon as they found an acceptable new job offer,


while 92 per cent of Australia's talent-at-risk and 95 per cent of Singapore's talent-at-risk employees said the same.
These findings reflect the massive economic growth the region had experienced over the past few years. Employees and top talents have the freedom to choose their employers and expect to work for employers who will nurture their talents and allow them to share in the economic success.
The study appears to vindicate an earlier report issued by the Asia-Pacific Economic Cooperation (APEC). In its 2006 Economic Policy Report, issued in November 2006, the APEC had predicted that labour migration issues in four of the countries -- China, Malaysia, Singapore and Thailand -- cited in the ISR study would be compelling reasons for pushing a host of education, training and labour reforms. They are expected to impinge on these economies in 2007.
These findings further illustrate the importance of pro-active talent retention strategies for businesses in the region. The study identified a number of key factors that are likely to motivate Asia-Pacific's most-talented employees to leave their present employers. All these factors are related to the corporate management style. The talent-at-risk employees were more likely to describe the management style in their companies as reactive rather than pro-active; risk avoidance as opposed to open to calculated risk; directive instead of participative; and short-term not long-term oriented.
In fact, the ISR research shows top talents enjoy being part of organisations that are focused on long-term success and offer opportunities to achieve long-term targets. ISR also found that high-performing employees preferred working for companies that have formal succession planning and talent management programmes.
"Companies that successfully engage their talent base ensure that career development plans meet the employees' personal needs and encourage employees to continually develop their skills and abilities," said Hamish Deery, ISR's regional executive for Asia-Pacific and Middle East.
"Key drivers of talent engagement are similar across the Asia-Pacific region vis-a-vis career development and training," he added.
---
From Manik Mehta, NEW YORK, Feb 17 (Bernama)