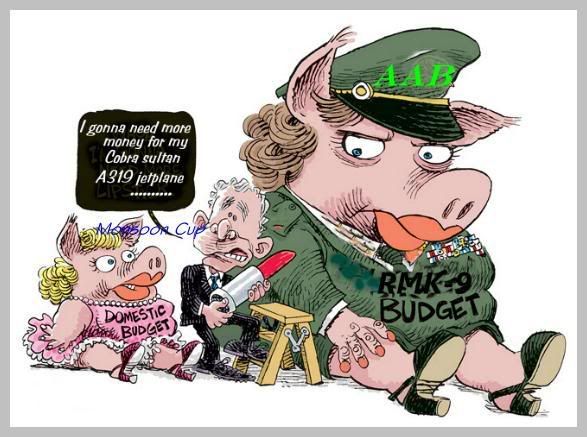 PM: People are starting to feel good about the economy

Of late, the maintstream media almost of frenzy announced about the
economics activity of malysia
, indicating that people are starting to feel good and confident about the country's economic performance and current market developments. Is it a prelude to indicate an early 'General Election' or is it that the government is trying to assuring the people that eveything is OK with the economy and we are in control?
"Those who were previously worried about the country's economic future are now having renewed confidence in our economy. There are reports indicating this," said Prime Minister Datuk Seri Abdullah Ahmad Badawi at his monthly meeting with Internal Security Ministry officials and department heads under the ministry.
Among the factors that changed people's perception of the economy according to the Prime Minister were:
the rising stock market index,


strengthening of the country's financial position


the increasing foreign and domestic investments that stood at more than RM40bil


the positive investments and financial standing


renewed people's confidence in our economic development, adding that there were opportunities behind whatever challenges the country faced.
Armed with the high confidence level, people would now strive to improve and expand their businesses and ventures, said the Prime Minister.
In Kuala Lumpur, a spokesman for the Federation of Malaysian Unit Trust Managers said unit trust prices had been doing well since 1997. "This is especially in the last few months as local and overseas markets have performed well. Equity-based and balanced (investing in equities and fixed income) funds have done well."
Sources said the Government has been cautious, laying the foundation over the last couple of years.
"Indicators show that the effect is having a broader impetus on the economy, and we want this to have legs," said one source.
"Those who are more optimistic are the high-end business people. Those in rural places are also benefiting from high commodity prices. We expect the trickle-on effect to come down to the man-in-the street, especially when the wealth effect spreads from the buoyant stock market,'' he said.
In 2006, Malaysia drawn a record of over RM20bil in foreign investments in the manufacturing sector, with 1,077 manufacturing projects worth RM46bil being approved last year, exceeding the RM27.5bil annual target set under the country's Third Industrial Master Plan.
International Trade and Industry Minister Datuk Seri Rafidah Aziz said recently that last year's 12.8% increase in foreign direct investments from RM17.9bil in 2005 was the highest level recorded to date.
Recently, the Malaysian Institute of Economic Research (MIER) also revised its 2007 gross domestic product (GDP) growth forecast upwards to 5.2% from 4.8% earlier.
Analysts and dealers also concurred on further strong corporate earnings from companies to keep the upward momentum of the stock market.